Fine dining
Our elegant Restaurant, considered one of the best of the Archipelago of Seychelles, proposes internationally gastronomical delight with a creole fusion twist in impressive decors. The stunning open-air setting with the magnificent views of the landscaping and ocean is breath-taking. An artistic blend of international and local talents to create intriguing flavours, aromas, and magical culinary experience. Creative and intuitive, the skilled and well-trained chefs focus on 'haute-gastronomy' to deliver perfection on your plates. Proudly delivering the brand Relais & Chateaux fine dining's promise in style emphasizing on the use of freshest ingredients from its own organic garden, a prestigious selection of vintage wines, refreshing signature cocktails and innovative beverage menu. Tempting flavours and enchanting aromas meld into delectable cuisine.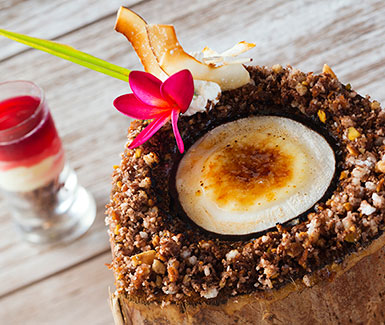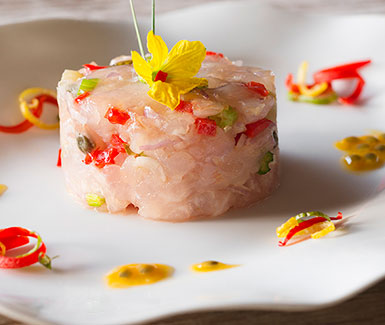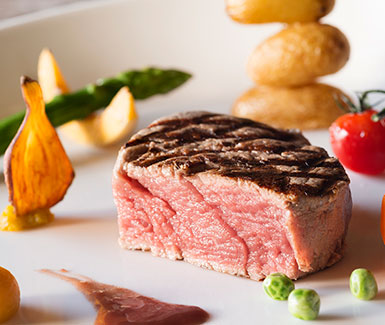 Indulge yourself with our creatively designed discovery signature menu in the evenings. A perfect art of fusion delight artistically presented to you in 4 courses.

Here is a sample of our Menus Decouverte Signature:


Starter :
Prawns tempura with wakame salad, Passion fruit smoked marlin, Summer rolls with black tiger prawns, Chateau style 3-flavours Sushi & Sashimis, Raviolis with ginger sauce, Gueule Longue tartar, Two peppers tuna fish carpaccio, Ceasar salad, Mango and octopus salad, Zucchini caviar, Chicken satay grilled with cajun spices, Crispy chicken with sweet & sour sauce, Mini pan-fried Duck breast with onions compote,...


Main course :
Seychelles' lagoon grilled Blue Lobster with garlic-butter, Roasted Seychelles giraffe crab, Fish aiguillettes with passion fruit sauce and saffron rice, Whole yellow Job marinated with bilembi & creole spices, Octopus creole curry with coconut milk, Parrot fish fillet crusted with passion fruit sauce, Creole-chicken curry and green papaya chutney, Angus beef grilled to your choice with Chef Mahen's three wonders sauce and potato fondant perfumed with nutmeg, Sliced beef with spicy coconut sauce,...


Desert :
Coconut mille-feuilles with mango sorbet, Manjari chocolate fondant with honey ice cream, Château chocolate mousse, Lemon meringue tart with Château ripple ice-cream, Coffee Tiramisu, Dark chocolate dome, Garden Château papaya jam tartelette with tonka ice-cream, Ile flottante with tropical fruit coulis, Caramelized banana with local orange,...


A symphony of tastes.

Taste our delicious dishes by moonlight and candlelight.
A fine wine and champagne list is available to enhance your meals.

Price of the dinner: Eur 85.-- / person (drinks not included) for hotel residents and Eur 95.-- for non-residents.

Our talented and flexible chefs spectacularly recreate individual requirements and tastes with regards to food preferences (vegetarian, halal,…) intolerance and allergies (gluten free,…).,you just need to inform us upon your arrival.
Chateau (Continental) breakfast :
Fruit juice, Seychelles tea, organic coffee, espresso, chocolate, homemade pastries, toast, croissants, pain au chocolat, Chateau de Feuilles jams, fresh fruit salad…
With supplement: eggs (prepared according to your choice), sausages, ham or bacon, crepes and pancakes, homemade yogurt, fresh fruit salad, cheeses, porridge, organic cereals,...


Lunch a la carte :
Carpaccio of fish and anchovy butter on toast, Tartars, Smoked swordfich salad, Caesar salad, Grilled catch of the day with creole sauce, Grilled beef filet with green pepper sauce, Spaghetti with giant shrimps, Fish curry with rice & satini of green papaya, Le Burger Chateau (beef with French fires and salad),...


Dinner :
Discovery Signature Menu
Dining at Chateau de Feuilles is renowned and unforgettable. Let us surprise you with our stellar four-course menu. Each dish is carefully prepared with the freshest ingredients and care to detail.